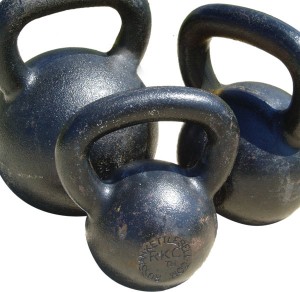 Kettlebells were developed in Russia in the 1700s. They were used by the Soviet Army as party of physical training and conditioning in the 20th century. They have been in the United States since the 1960′s, but only recently have become popular.
I bought a Kettlebell a few years ago after reading about it in The Four Hour Body. I was using it pretty often, mostly for bicep curls. Then I started doing The Kettlebell Swing, which is a full-body exercise, great for both cardio and muscle building. It was great until I injured myself by doing it incorrectly. Since then, I stopped using my Kettlebell.
This weekend, I was reminded of how awesome an exercise it is. Youtube to the rescue, I watched some Kettlebell swing tutorials, making sure to use the correct form this time.
Why Kettlebell Swings are claimed to be the perfect exercise
They are highly efficient. You get aerobic and weight taining in one workout
Full body training. Swings develop the posterior muscles (hamstrings, glutes, core, back) as well as abs and the core muscles
They are a great body fat burner when done at high intensity intervals
Image Credit: GiryaGirl